National University: Manpower's Phil Blair Shares Job Search Tips
By Richard Lloreda, Staff Writer
National University Herald
February 26, 2016
The view from the Manpower offices main floor is spectacular. On the right planes fly in from distant shores. A World War II aircraft carrier, the USS Midway, rests majestically on the left. Dividing this impressive panorama is a bay of tranquil waters, all of which made for one lovely morning in the world of employment staffing.
Phil Blair's office affords an Olympian rooftop vantage point.
_______________
Phil Blair on KUSI News: 
https://www.youtube.com/watch?v=e0YM-QuMyl8
_______________
At a recent interview, he immediately listed the reasons why he started his own temporary employment agency and wrote his Amazon best-seller Job Won! 500,000 Hires and Counting, a book on how to get and keep a job after graduating college.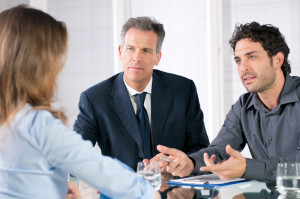 "First, focus on job readiness while you are still in school. In fact, do this during your entire college career down to taking classes with a plan in mind," he said. "You should plan on two years of getting ready to job hunt while still in school. And start a career path plan developing your skills at finding a job."
Asked if the current job search is a combination of patience, knowing what the job offers one personally for fulfillment, common sense, insider information and joyful networking, Blair continued: "All of those things, plus polite persistence, and never say, 'I don't know what I want to do.' Let the interviewer know you would like the job, and tell him or her so at the end of the interview."
An expert in the subject of getting a job after college, Blair specializes in employment with his job placement agency Manpower. His book Job Won has also received strong reviews from Amazon readers who have given the work 4.3 out of five possible stars.
Readers are finding Job Won a valuable job-hunting tool.
Blair continued with the sage advice that "Students should integrate the job search from the beginning. This should be stressed from the beginning of their educational plan."
Blair added that it can be helpful for students to take free non-credit courses to build their job-hunting skills. One-third of college students move back home instead of getting a job right out of college, so they should consider taking job search and interview courses.
He also stressed the importance of professors encouraging their students to take classes that may not directly relate to their chosen career path.
Informational interviews can help a job seeker get a foot in the door before a formal job interview. "Informational interviews are great for gaining inside information since 50 percent of all job postings are never posted. Also, keep your eyes peeled for jobs for which you feel you are a good fit. A powerful skill to practice is a 30-second elevator speech, outlining your intent, strengths and support statements in a polite and concise manner.
Lastly, send out a handwritten "thank you" note that is relevant to the conversation in your interview, and be polite to everyone at your interview, including the receptionist," Blair said.
By adopting a "back to the drawing board" attitude, Blair said, "You can massage your resume to match the job by using keywords and relate-able and interchangeable skills to a particular job posting. Use your cover letter to express why you are such a great fit."
"The job search is sort of like dating, so develop an instinct and accept that you will make some mistakes, then correct them as you go along. A job search takes time. Go to interviews for jobs you don't want and use them to practice your interviewing skills. Show some of your personality without overwhelming the interviewer. You want to stand out, so be your best, unique self."
When the subject of millennials came up, Blair smiled and took a deep breath, then offered this advice: "Millennials do bring many desirable qualities to the table. They are embracing of their creativity and curiosity. They are idealistic and out-of-the-box thinkers." Blair went on to say today's high school age group can learn from millennials because they tend to be pragmatic and organized.
Blair's last bits of advice for graduates and college students alike included these helpful tips:
• Write your plans in pencil because you will be flooded by possible strategies and even more ideas.
• Think about preparing your career path two to three years before you graduate. Ask your professors about where you could look to start your career in the fields.
• Use your school's career resource center, and massage your resume to each individual job posting.