Phil Blair is one of San Diego's most visible and respected business leaders. Since 1977, he along with partner Mel Katz, have built Manpower of San Diego into the largest Manpower franchise in the U.S. with annual revenues exceeding $125 million.
Manpower provides quality employment opportunities for thousands of San Diegans. Their training programs range from community work ready to veterans programs preparing them to enter the civilian workplace.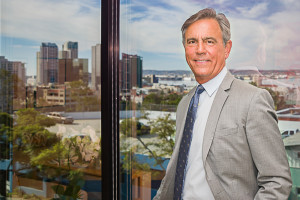 Mr. Blair is an oft-quoted employment commentator, appearing in local, national and international business media.  He's a professional speaker on employment and workforce trends and issues, as well as a career coach. His Amazon best-selling book, Job Won! 500,000 Hires and Counting, is a complete guide to finding and managing a successful career in today's ever-changing economy.
As an active member of the San Diego Community, Mr. Blair currently serves on the board of directors of: San Diego Regional Chamber of Commerce; the San Diego Convention Center (Board Member); Downtown San Diego Partnership (Executive Committee); LEAD San Diego (Chair);  CONNECT (Board Member); the Economic Development Corporation (Board Chair); and the San Diego Downtown Rotary Club.
Previously, Mr. Blair was on the Board of Directors for the American Red Cross, the United Way and the Centre City Development Corporation.  He also served as a member of the San Diego City Council; the San Diego Police Foundation; the San Diego Foundation and was commissioner for four years on the Fair Political Practice Commission in Sacramento.
He earned a Bachelor's degree in Business Administration from Oklahoma State University.
Current Leadership Positions in Community, Civic and Professional Organizations:
San Diego Convention Center Board, Chair
LEAD San Diego Executive Board Member
San Diego Rotary, Member since 1980
Connect Board Member
The United Way Executive Committee, Past Chair
Herb Klein Forum Founder
Manpower Insurance Company, Board Member
The Lincoln Club of San Diego Member, Past Board Member
World War Two Marauders Association Board
San Diego Regional Chamber of Commerce, Board and Management Committee Member
Past Leadership Positions in Community, Civic and Professional Organizations:
San Diego City Council, 5th District Councilmember
San Diego Regional Chamber of Commerce, Chair – 2008
Manpower Franchise Owners Association, Chair
NTC Foundation for Arts and Culture, Past Chair and Board Member
Fair Political Practice Commission (FPPC), Commissioner – four years
Planned Parenthood, Chair
San Diego Workforce Partnership, Chair
Centre City Development Corporation, Chair
San Diego Red Cross, Board Member
ConVis Board and Executive Committee Member
Council on Literacy Advisory Committee, Board Member
Angels Foster Care Advisory Committee, Board Member
SDSU College Advisory Board
San Diego Symphony, Board Member
Holiday Bowl Board Member
Notable Contributions and Awards:
Phil Blair Day in San Diego – Contributions to Our City
2008 Director of the Year Corporate Citizenship – Corporate Directors Forum
2007 "50 People to Watch" – San Diego Magazine
2007 Most Admired CEO – San Diego Business Journal
2007 Best Places to Work – San Diego Employers Group
2006 Civic Tribute Award – Copley YMCA –
2005 Outstanding Philanthropic Corporation – Association of Fundraising Professionals
2005 Best Places to Work – San Diego Employers Group
2005 Most Admired Company – San Diego Magazine
2004, 2003 Urban League Diversity Award – San Diego County Urban League
2004 Business Hall of Fame – Junior Achievement
2002 Torch Award Market Place Ethics – Better Business Bureau
Manpower-Sponsored Board Rooms:
Urban League Red Cross United Way High Tech High NTC-Liberty Station Senior Community Centers San Diego Regional Chamber of Commerce